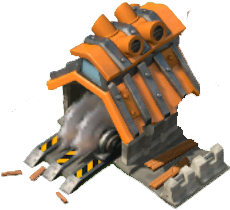 "The sawmill produces wood, a construction material for building simple structures. Upgrade the sawmill to increase the production rate!"
| | | | |
| --- | --- | --- | --- |
| | | | |
| Level 1 | Level 2-4 | Level 5 | Level 6 |
| | | |
| --- | --- | --- |
| | | |
| Level 7 | Level 8 | Level 9-10 |
The Sawmill constantly produces Wood, except for when it is being upgraded or when it is full.
Wood is the most basic construction material used for upgrades or constructions.
Uncollected Resources within your Sawmill can be stolen by attackers. You lose 50% of those uncollected Resources regardless of your Vault level.
At level 1, the Sawmill is a large wooden building with large front doors and a stone floor. There are logs and a cutting stump outside.
At level 2, the Sawmill gains a chimney, and some holes in the roof are repaired.
At Level 6, the Sawmill gains a metal roof with a metal patch. It also has more planks scattered around it. The chimney of the roof becomes longer.
At Level 7-10, the Sawmill's logs are moved inside, its gate is removed, a blade is added on the outside, windows are added, and the stone floor goes out farther.
When your Wood Storage is full, the bubble you click to collect Wood turns red, indicating that you cannot store the additional Wood produced within your Wood Storage.
The 14.57.1 update introduced Sawmill animations.
The Sawmill is the only building whose last upgrade doesn't cost Wood.
The Sawmill is the only resource production building that requires the resource it produces as part of its upgrade cost (although only at Sawmill levels available atHeadquarters level 5 and below, when Wood is the only resource unlocked).
| | | | | | | | | | | | | | | | | | | | | |
| --- | --- | --- | --- | --- | --- | --- | --- | --- | --- | --- | --- | --- | --- | --- | --- | --- | --- | --- | --- | --- |
| Headquarters Level | 1 | 2 | 3 | 4 | 5 | 6 | 7 | 8 | 9 | 10 | 11 | 12 | 13 | 14 | 15 | 16 | 17 | 18 | 19 | 20 |
| Number Available | 1 | 1 | 1 | 1 | 1 | 1 | 1 | 1 | 1 | 1 | 1 | 1 | 1 | 1 | 1 | 1 | 1 | 1 | 1 | 1 |
Level

Hitpoints

Capacity

Wood Per Hour

Upgrade Cost
Upgrade Time

Headquarters Level Required

Wood

Stone

Iron

1
1,500
500
120
N/A
N/A
N/A
5m
1
2
1,800
1,450
210
200
N/A
N/A
5m
1
3
2,200
7,500
580
600
N/A
N/A
30m
2
4
2,600
7,500
580
3,500
N/A
N/A
1h 45m
3
5
3,100
14,700
900
10,000
N/A
N/A
2h 30m
5
6
3,700
26,800
1,320
N/A
7,600
N/A
6h
7
7
4,400
45,000
1,800
N/A
18,000
3,400
8h
9
8
5,300
70,000
2,400
N/A
95,000
24,800
10h
12
9
6,300
100,000
3,000
N/A
410,000
149,000
12h
15
10
7,500
130,000
3,500
N/A
670,000
420,000
14h
17